Smart Moves Home Inspections, LLC
Residential Home Inspections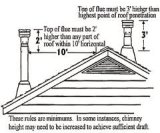 The length of a horizontal line drawn from the top of the opening of the chimney flue to the point at which that line touches the roof surface should be ten feet or more. This height requirement is to assure that the chimney will develop adequate draft.  A "too short" chimney won't have a tall-enough column of rising hot gases inside to develop a safe, adequate draft.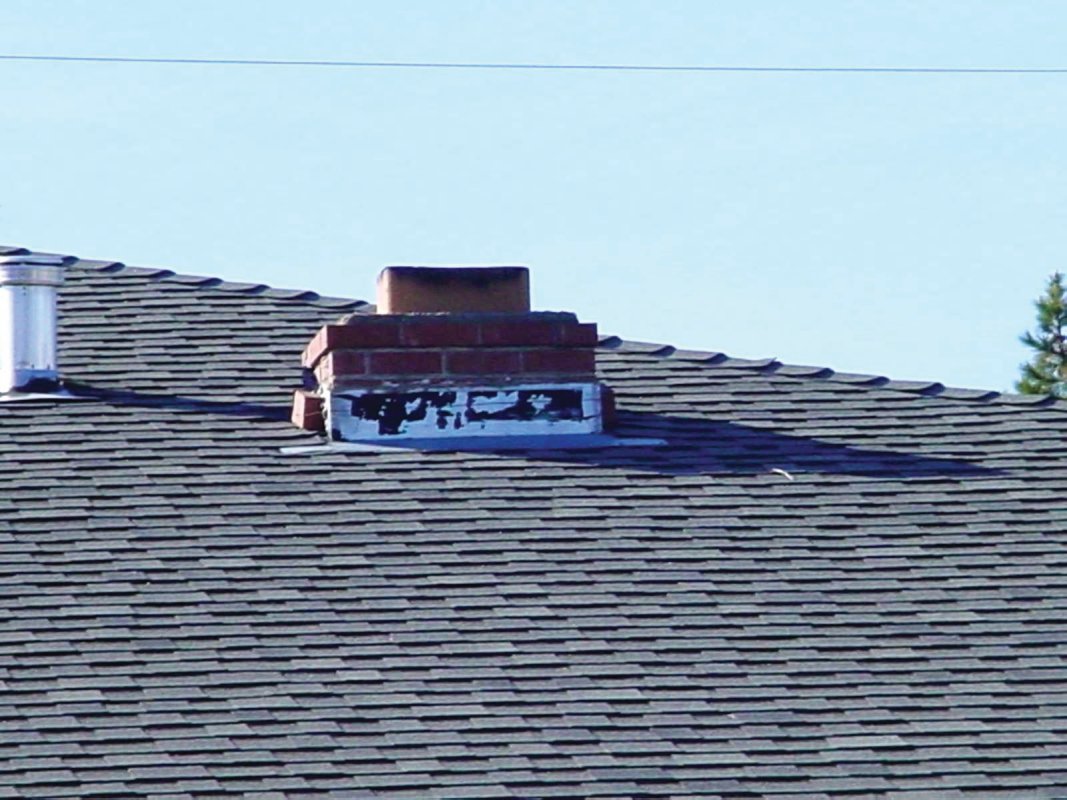 A chimney that is
too short
is unlikely to vent properly and it may also be a serious fire hazard to the building. Particularly with gas fired appliances, the lack of adequate draft for any reason, including a chimney flue that is too short, can result in improper combustion and the production of dangerous, potentially fatal carbon monoxide gases. And the same inadequate draft that affects combustion in the heater can increase the risk that the gas backdrafts out into the buildings.
NFPA 211 1.7.1 specifies:
... A chimney or vent shall be designed and constructed to develop a flow sufficient to completely remove all flue or vent gases to the outside atmosphere. The venting system shall satisfy the draft requirements of the connected appliance(s) in accordance with the equipment manufacturer's instructions or the chapter on Chimney, Gas Vent, and Fireplace Systems of the Equipment Volume of the ASHRAE Handbook.
An obvious fix for a chimney that is too short to meet the fire safety clearances mentioned earlier is that must be extended above the roof for fire safety.In some cases it is permitted (NFPA 211 1-7-2.) to use a draft inducer fan ("a mechanical draft system of either forced or induced draft design") to meet the draft requirements.
There is a lot of good information on the web about this topic. However, be aware that your local jurisdiction may have precedence over national code. Before making repairs be sure to consult you local municipality. When buying a home, get it inspected!
Sources-Inspectopedia.com, NFPA.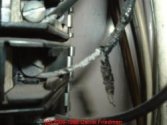 Aluminum wiring, used in some homes from the mid 1960's to the early 1970's, is a potential fire hazard.
According to the
U.S. Consumer Product Safety Commission
, fires and even deaths have been reported to have been caused by this hazard. Problems due to aluminum wiring expansion, or arcing at the aluminum wiring connectors, can cause overheating at connections between the wire and devices (switches and outlets) or at aluminum wire splices. The connections can become hot enough to start a fire without ever tripping a circuit breaker!
CPSC research shows that "homes wired with aluminum wire manufactured before 1972 are 55 times more likely to have one or more connections reach "Fire Hazard Conditions" than are homes wired with copper. "Post 1972" aluminum wire is also a concern. Introduction of the aluminum wire "alloys" in 1972 time frame did not solve most of the connection failure problems.
Aluminum wiring is still permitted and used for certain applications, including residential service entrance wiring and single-purpose higher amperage circuits such as 240V air conditioning or electric range circuits. The fire risk from single purpose circuits is much less than for branch circuits.
But it's not necessarily because of a "new alloy" as some folks assert. It's because there are enormously fewer connections (four or six rather than 30 or 40 per circuit) and thus statistically a smaller chance of a connection failure. These connections do still burn up, as indicated by field reports.
How to Repair Aluminum Electrical Wiring to Reduce the Hazards - Repair Alternatives & Choices
Once the initial steps above have been addressed here are the choices for safe repair of aluminum wiring:
Aluminum Wiring Repair Method No. 1
: Re-wire the Building, Replacing All Aluminum with Copper Wire
Re-wire the Building replacing all aluminum branch circuit wiring with copper, as a "best repair method" for aluminum wiring, OR as a next-best aluminum wiring repair method
Aluminum Wiring Repair Method No. 2:
Copper Pigtailing using the COPALUM Connector
Use the special AMP (now TYCO) COPALUM connector and special tool to connect short copper wires to
every aluminum wire end
in the building, reconnecting the copper to the various devices (outlets, switches, lights) and splices. This "copper pigtailing" procedure is performed by an electrician trained and licensed by AMP or TYCO to use this COPALUM procedure. The TYCO COPALUM connector method is described is described at
PIGTAILING USING AMP "COPALUM" CONNECTORS
. Typically this approach costs about half that of completely re-wiring a home with copper.
The EPA and the U.S. Geological Survey have rated every county in the United States as Zone 1 to 3 for radon risk. Links to state maps with county by- county risk levels can be found at
www.epa.gov/radon/zonemap.html
. Go here for great info specifically for
Pennsylvanians
.
The EPA recommends that all homes in Zone 1 counties be built with radon-resistant features, which can be easily upgraded to a radon remediation system if needed.
Since homes in Zones 2 and 3 can also have high levels, it is best to check with your state radon office to see if they are aware of any local "hot spots."
According to the Surgeon General, Radon is the 2nd leading cause of Cancer in the US.  Everyone should have their home tested and now is the best time. It is an easy, inexpensive, non-invasive procedure. Call to schedule for a radon test.  
A "GFCI" is a Ground Fault Circuit Interrupter.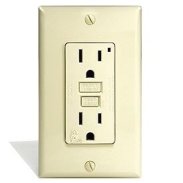 This is picture of an outlet version. Some other versions are breakers in the electric panel, separate plug-type, or stand alone. A ground fault circuit interrupter is an inexpensive electrical device that, if installed in household branch circuits, could prevent over two-thirds of the approximately
300 electrocutions
still occurring each year in and around the home. Installation of the device could also prevent thousands of burn and electric shock injuries each year.
The GFCI is designed to protect people from severe or fatal electric shocks Because a GFCI detects ground faults, it can also prevent some electrical fires and reduce the severity of others by interrupting the flow of electric current. Where are they needed? General standards say within 6 feet of a water source, outdoors, unfinished basements, and garages. How many do you have? Get great  info about
GFCI's here.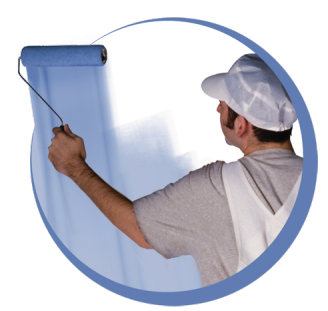 The United States government's
Consumer Product Safety Commission
banned lead paint in
1977
. In an announcement dated September 2, 1977, "The U.S. Consumer Product Safety Commission (CPSC) has culminated a major regulatory proceeding by issuing a final ban on lead-containing paint and on toys and furniture coated with such paint. This action was taken to reduce the risk of lead poisoning in children who may ingest paint chips or peelings."
FACT: Lead exposure can harm young children and babies even before they are born.

FACT: Even children who seem healthy can have high levels of lead in their bodies.

FACT: You can get lead in your body by breathing or swallowing lead dust, or by eating soil or paint chips containing lead.

FACT: You have many options for reducing lead hazards. In most cases, lead-based paint that is in good condition is not a hazard.

FACT: Removing lead-based paint improperly can increase the danger to your family.



If you think your home might have lead hazards, read on to learn about lead and some simple steps to protect your family at
epa.gov
.
Effective April 22, 2010, the US EPA now requires that all renovators who work in homes built pre-1978 and disturb more than six square-feet of lead paint be RRP certified.
Brad

Smart Moves Home Inspections
/